COOLPO's New Video Conferencing Cameras Are on Sale on Amazon
New York, NY - Video conferencing cameras are ever-evolving, with manufacturers always aiming to upgrade the features of the cameras at their disposal. COOLPO never seems to fail its consumer base in this regard either. COOLPO seems to always be in a quest for improvement to stay on top of their game, and they definitely have not failed with this one. It may be fair to conclude that COOLPO "has done it again" with their latest video conference cameras.
COOLPO is a visual algorithm research & development company committed to leveraging omnidirectional sensing and artificial intelligence on smart conferencing systems. COOLPO wins Globee in the 17th annual 2022 Information Technology World Awards.
If one is searching for high-definition-4K to be precise- video quality that is convenient and user-friendly, it would be perfect to choose COOLPO's new release.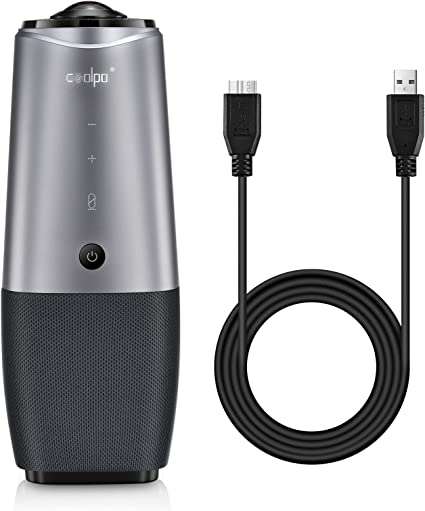 First off is the COOLPO AI HUDDLE PANA that literally gives everyone the spotlight. This technological marvel gives "plug and play" and an entirely new dimension. It is as user-friendly as they come, despite the fact that it employs complex AI algorithms in its functioning. The conference room video camera quality is 4K, yet, impressively, this might not even be its most astounding feature. One no longer has to worry about the interruptions brought about by Bluetooth or Wi-Fi connections, as this piece of technological genius does away with both technologies, instead employing a USB-only approach. This highly reduces the risk of personal data and information being compromised.
The 360-degree camera further bridges the geographical distance between meeting participants, as it's possible for individuals to perceive even the most indistinct of gestures from fellow meeting participants. The video conference camera also comes equipped with an all-surround speaker that conveniently conveys messages throughout the entire meeting room. The presence of a full-duplex speakerphone makes it easy to send and receive messages concurrently. This feature does not however interfere with the visually pleasing element of the video camera as it is conveniently and subtly placed in the bottom half of the device, covered by a soft fabric.
Up next is the simple yet elegant COOLPO AI HUDDLE MINI video conference camera. It comes with multiple options for its output view, has an impressive 110-degree field of view, and is supported by various versions of the Windows Operating System and various other teleconferencing software. The video camera also makes good use of its group framing feature, enabling it to detect when a person either enters or leaves, thus adjusting the frame accordingly. Another impressive feature is the background noise cancellation, which ensures the quality of sound is top-notch.
Media Contact
Company Name: Coolpo
Contact Person: HQ
Email: Qianh@coolpolens.com
Phone: +8619542767247
Country: United States
Website: www.coolpolens.com
Disclaimer: This article is reproduced from other media. The purpose of reprinting is to convey more information. It does not mean that this website agrees with its views and is responsible for its authenticity, and does not bear any legal responsibility. All resources on this site are collected on the Internet. The purpose of sharing is for everyone's learning and reference only. If there is copyright or intellectual property infringement, please leave us a message.